Polibatam Navtech Team Wins 2nd Place in the World Ferry Design Competition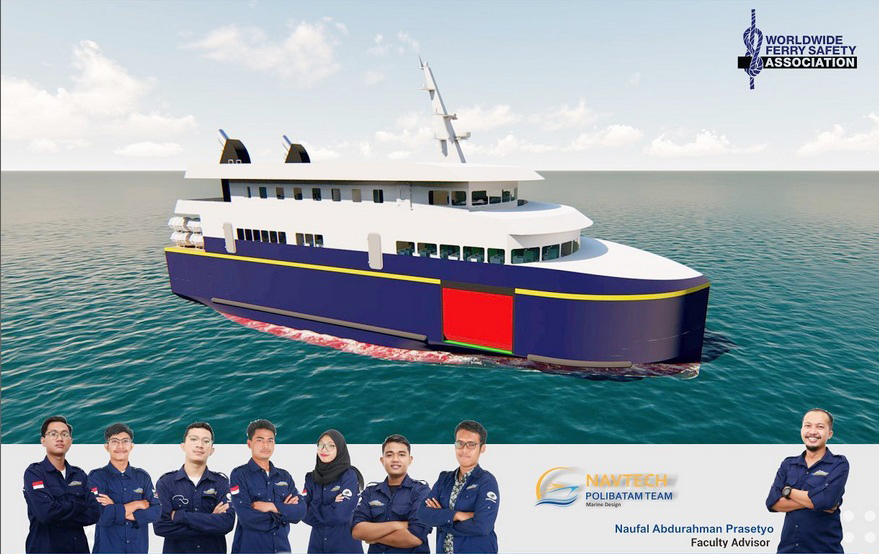 ACHIEVEMENT-Polibatam Ship Planning and Construction Study Program team won second place in the international arena at the Ninth Annual International Student Design Competition for a Safe, Affordable Ferry organized by the Worldwide Ferry Safety Association (WFSA) in 2022. In this competition, 22 teams were registered from schools/colleges in Asia, Europe, and North America but only 12 teams were able to complete the design specifications. The first position was won by the Nawasena Team (ITS Surabaya), the second position was won by the Navtech Team (Politeknik Negeri Batam), and the third position was won by a team from the University of British Columbia and a team from the University of Indonesia (UI).
The ship designed by Polibatam Navtech team is a mono-hull type ferry to carry passengers and vehicles on the Brahmaputra river shipping area in Assam, India which has the characteristic of having shallow water. This ship uses Azimuth thrusters propulsion and uses solar panels that can support the electricity needs of the ship. On the navigation side, this ship has a Vessel Traffic Management System (VTMS) and equipped with a LIDAR sensor. The loading and unloading process uses a side ramp door, equipped with a turntable to speed up the process of parking vehicles on board. This ship is also equipped with a safety analysis and passenger evacuation as well as a flexible ship design for pandemic conditions.
Polibatam Navtech team that participated in this competition was under the auspices of the Ship Planning and Construction Engineering Study Program, Department of Mechanical Engineering. The team consisted of 7 students, i.e. Mohammad Al Hadiy (Team Leader), Muhammad Nizam Karnyoto, Jatmico Christopher, Masyudul Haq Syaifullah, Mudzakir Walad, Noviardi Yunanda, and Eka Putri Chayrani with a faculty advisor, Naufal Abdurrahman Prasetyo, S.T., M.T.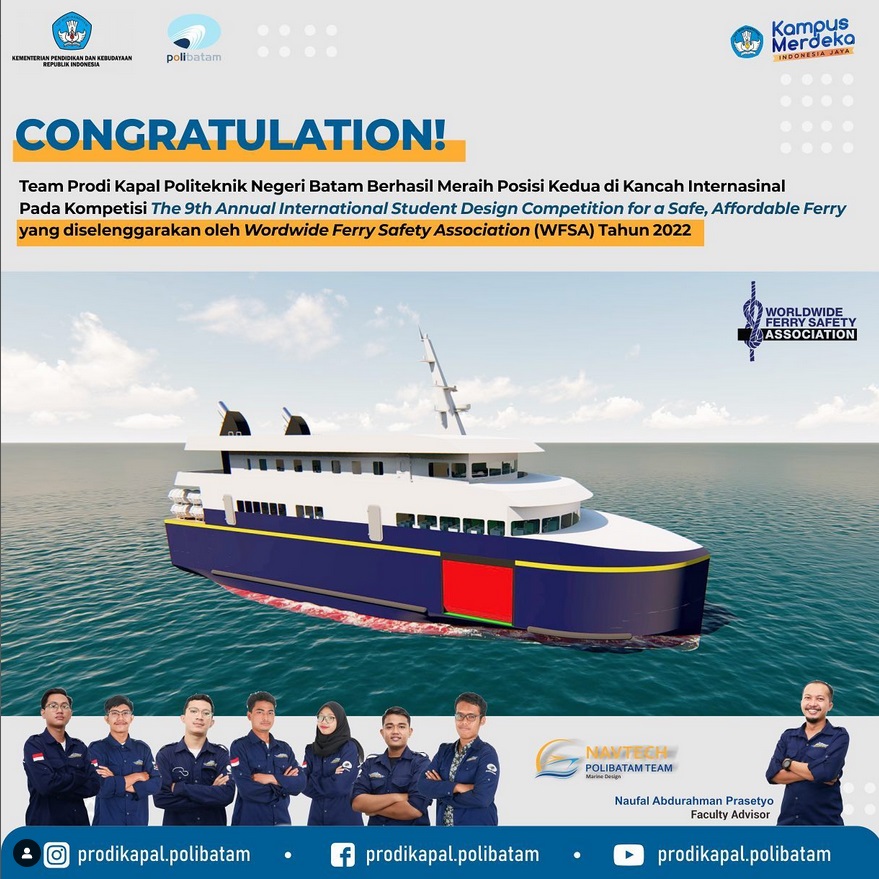 Source: https://www.marinelink.com/news/winners-student-ferry-design-competition-496901
#Polibatam #Achievement #Navtech #ShipPlanningandConstruction