Polibatam Collaborates with Nueva Ecija University of Science & Technology (NEUST) Philippines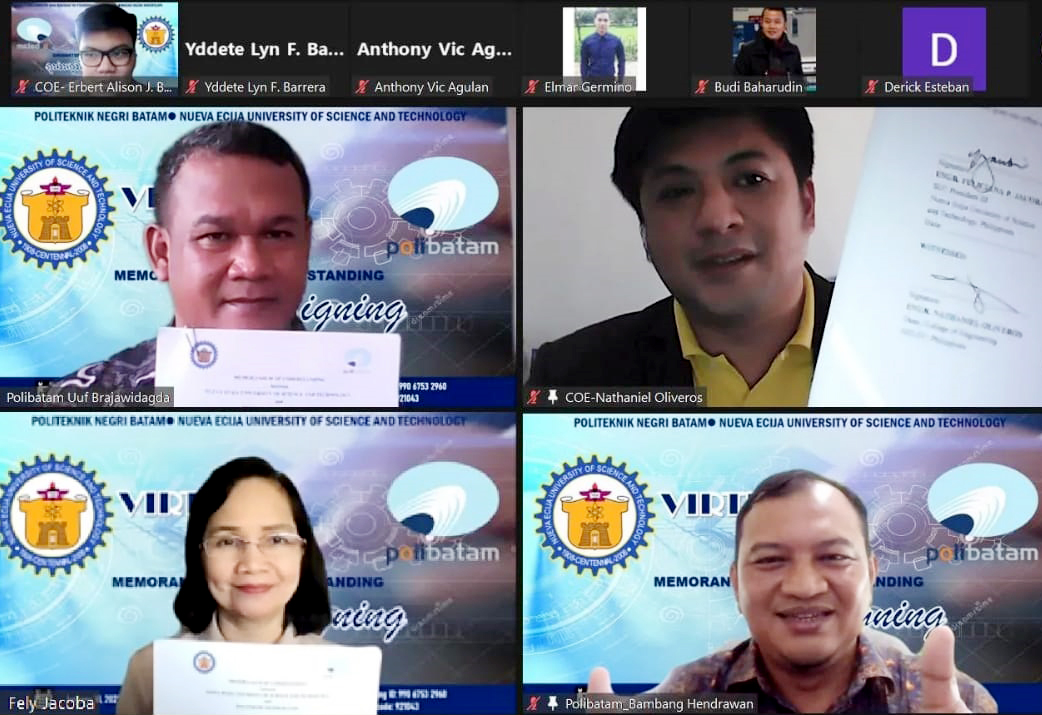 COOPERATION-In order to improve the quality of collaboration at the international level, the leadership of Politeknik Negeri Batam (Polibatam) signed a Memorandum of Understanding (MoU) with Nueva Ecija University of Science & Technology (NEUST), Philippines. The agenda was held online via a conference platform (18/1/2022). Also attending the agenda was the management of Polibatam, Dr. Uuf Brajawidagda (Director), Bambang Hendrawan (Vice Director for General Administration & Finance), Arniati (Head of Business Management Department) and Sapto Wiratno Satoto (Head of Mechanical Engineering Department). From the NEUST side, Dr. Feliciana Jacoba (Chancellor), Salvador A. Loria (Head of Electrical Engineering Department), Nathaniel Oliveros (Dean of the Faculty of Engineering), and Gina Lorenzo (International Office).
On this occasion, the President of the NEUST expressed his joy over the collaboration between Polibatam and NEUST in improving the quality of education. "We hope that collaboration in research and other collaborations can be established for the long term and hopefully we can meet face to face after the pandemic ends," said Dr. Feliciana Jacoba. The Director of Polibatam in his speech expressed his gratitude for the trust and opportunities for cooperation between the two campuses and also hoped that this good collaboration could continue in the future.
Bambang Hendrawan in the closing statement session expressed his hope that this collaboration can provide benefits for both colleges. "I hope this collaboration can be implemented and provide benefits for each other" he concluded.