Polibatam Achieved 3 Awards at the Merdeka Belajar Awarding Event 2023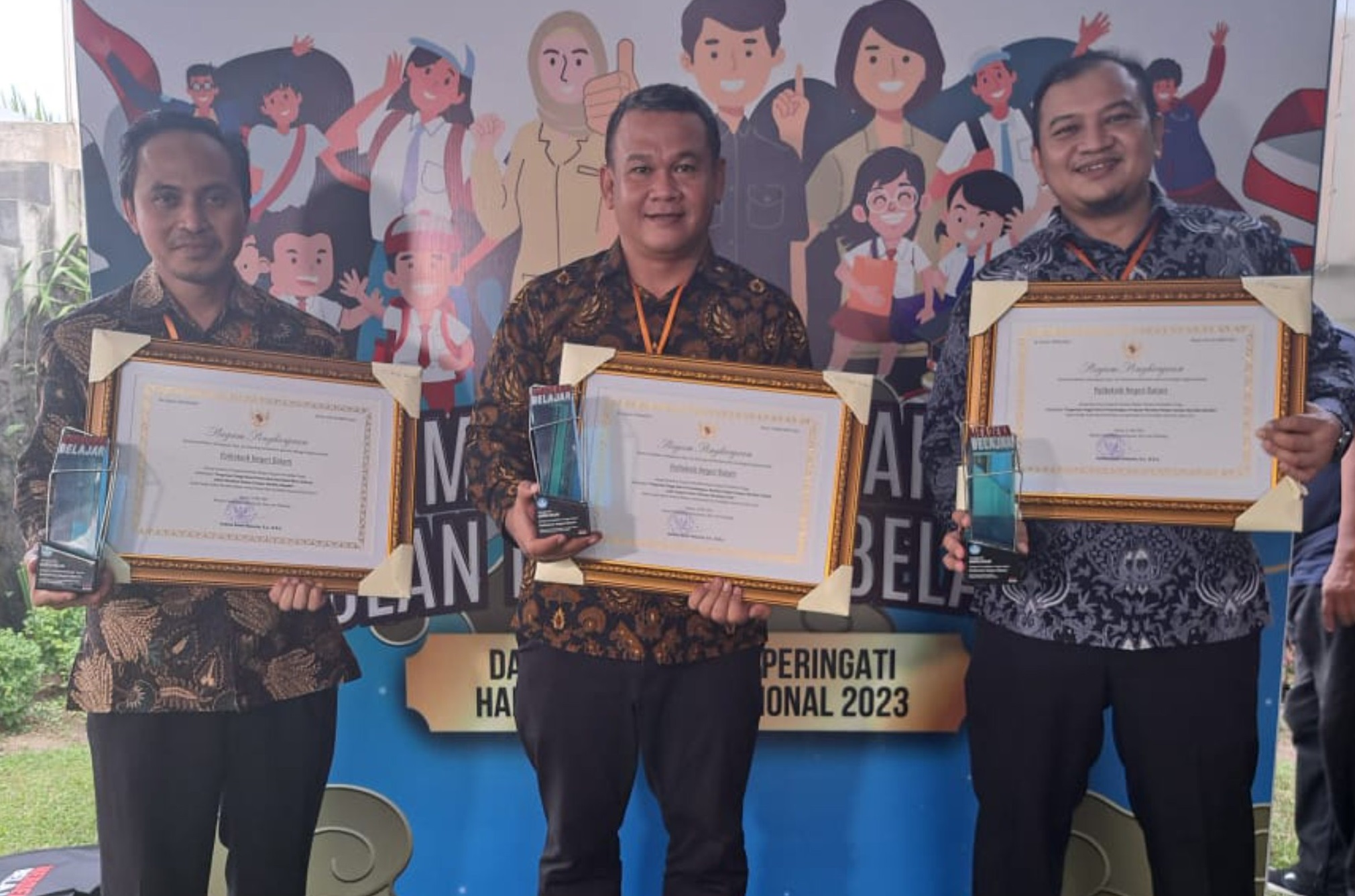 POLIBATAM: The Ministry of Education and Culture has launched 24 episodes of Merdeka Belajar in the last 3 years, focusing on transforming the education system, especially for learning, funding, and management, to realize Excellent Indonesian Human Resources. May 2023 as the Free Learning Month, also in commemoration of National Education Day, the Ministry of Education and Culture carries the theme Freedom to Learn "Moving Together, Enlivening Freedom of Learning/Bergerak Bersama Semarakkan Merdeka Belajar" with various activities, one of which is the Freedom Learning Carnival.
This activity took place on 28-29 May 2023, which was held at Yogyakarta Zero Point with the opening of the Merdeka Learning Carnival, then continued on 29 May 2023 with the Handover of the Merdeka Learning Award. Also present were the Minister of the Indonesian Ministry of Education and Culture, Nadiem Makarim; the Director General of Vocational Studies at the Indonesian Ministry of Education and Culture, Kiki Yuliati; and others.
The awarding ceremony was opened by entertainment with the atmosphere of Ki Hajar Dewantara, the Father of Indonesian Education, starting with parades, Indonesian traditional music performances, video mapping, colossal dances, and others.
Alhamdulillah, Politeknik Negeri Batam achieved 3 awards: Rank 1 Higher Education with the Most Matching Funds, Rank 2 Higher Education with Implementation of Independent Merdeka Belajar Kampus Merdeka (MBKM), and Rank 2 for the Largest Industry Contribution in the Matching Fund Program. Kiki Yuliati, the Director General of Vocational Education, directly gave these awards. Polibatam was represented directly by Uuf Brajawidagda, the Director of Polibatam; Bambang Hendrawan, Deputy Director II; and Muhammad Zaenuddin, Deputy Director III.
"Alhamdulillah, on behalf of Polibatam, I would like to thank my community members for their efforts to support this MBKM activity. In the end, they were appreciated by the Ministry of Education, Culture, Research, and Technology. Let's continue to improve vocational education for Indonesian human resources to be excellent," said Uuf.
Bambang Hendrawan added, "This is fuel to burn Polibatam's enthusiasm to further improve Indonesian human resources, especially in the Riau Islands Province. "Thank you also to the students who always fully support the Ministry of Education and Culture's programs, which is the MBKM Program this time. Let's always continue to support and improve programs that can create excellent human resources in the future."
Greetings Polibatam.
#Polibatam #MBKM #NationalEducationDay #Awards