FICUSIA Animation, Conclusive Evidence that PBL is Cool
Batam, Directorate General of Higher Education — The spirit of national awakening will never fade. What is the proof? A slick animated film made by Politeknik Negeri Batam (Polibatam) students with the title Ficusia is coming soon. Animated film that campaigns against drugs among the younger generation. "Ficusia is an animation series that campaigns against drugs for the younger generation in Indonesia and Australia. "The story is packaged in 3 episodes with the themes of Nature, Spirit, Fantasy, Surrealism," said Sudra Irawan, Head of the Department of Informatics Engineering at Polibatam.
Sudra added that this animation series project is a series collaboration between Polibatam and the Cinderella from Indonesia Foundation. This project is a form of voicing concern for a large number of prisoners due to drug abuse who are said to have come from among the youth. This film is also a place to introduce Batik Girl in a sustainable manner by utilizing technology in the current digital era, i.e. through animated films.
Batik Girl Animation Series – Ficusia #episode 1 premiered on May 25, 2022 at the Auditorium, Polibatam Main Building. This animated film is the result of learning activities at Polibatam in collaboration with Cinderella from Indonesia which is supported by the Australian Government through the AGS program which is administered through the Australia Award Indonesia.
The animation is being worked on from December 2021 and is scheduled to finish 3 episodes in July 2022 (8 months). Through project-based learning (PBL), as many as 69 students across majors were involved, i.e. from animation, multimedia and network study programs, cyber security engineering, accounting, business administration, and managerial accounting.
"The hope is that as a PBL activity across majors and study programs at Polibatam, it will further strengthen collaboration between lecturers, laboratory assistants, and students," added Sudra.
The main animation pipeline, starting from story development, concept art, 3D assets, lighting, rendering and compositing, and composing, is carried out by students from the animation program majoring in informatics engineering and receiving support from the multimedia engineering study program and network for VFX. In addition, network infrastructure support is also needed, which is supported by students from the cyber security engineering Study Program. So, the entire pipeline can run in sync on the cloud drive cloud. Project work also requires documentation of personnel and financial administration which is part of the Department of Business Management students.
Ficusia further proves that PBL is an effective learning method for making this film. "PBL helps us as students in honing hard and soft skills. For example, teamwork skills that involve many departments in filmmaking, where we learn to work in teams so that when we are directly involved in the industrial world, it is easier to adapt," said Muhammad Asaduddin Alfayyadh, a Polibatam student who was involved in this animation.
Muhammad Asaduddin added that the skills applied during the PBL provided specific provisions to focus on the animation production pipeline according to the abilities and passions of each student. This provision is certainly useful in the future workforce.
The enthusiasm of students to show the world that the younger generation is a reformer is proven by this real work. "It is truly an honor to be a part of the making of this animated Ficusia film. We are very pleased to have been given an opportunity that certainly cannot be missed. This opportunity can help us as students to hone skills and add to our portfolio in the future," said Aldilan Rafidyan Ihsan as 3D Asset Leader.
On another occasion, the Director General of Vocational Education of the Ministry of education, culture, research, and technology, Wikan Sakarinto revealed that in Polibatam there are around 299 student PBL teams, each working on a real project. "The form of student lectures is not conventional classical, but every day the team works to implement a project for 1 semester. PBL activities consist of 10-15 students from across study programs/departments, and even across generations," he said.
The following is the Batik Girl Animation Series team of lecturers and laboratory assistants involved in this project:
General Director: Ahmad Saropi; Producers: Selly Artaty Zega; Assistant Director (Astrada): Muhammad Asaduddin Alfayyadh; Scriptwriter: Riki; Scriptwriter Assistant: M. Farhan Dwi Carlo; Art Director: Happy Yugo Prasetiya; Sound Director: Gendhy Dwi Harlyan; Animation Supervisor: Aldino Saputra; 3D Asset Leader: Aldilan Rafidyan Ihsan; VXF Artist: Fadil Mayuheru; IT Support Supervisor: Andri Albertha, Nelmiawati; Subtitle and Proof Reader: Satria Bayu Aji; Project Leader: Lusia Efriani – Cinderella Foundation from Indonesia. #Let'sRiseTogether (Diction/DN/AP/NA)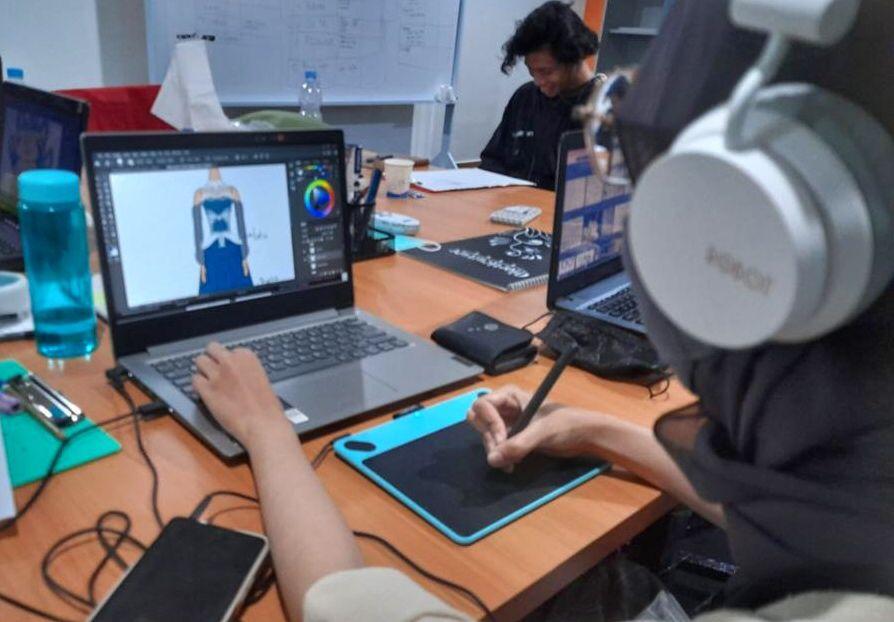 Source: https://vokasi.kemdikbud.go.id